Various public service projects were launched by Daniel Razon through his television programs all geared toward helping so many poor Filipinos.
Journalism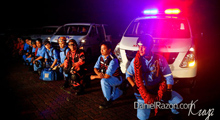 Without discounting the importance of news casting, Tulong Muna Bago Balita (Rescue First, Report Later) redefines the conventional "get it first, get it right" media practice by putting the lives of the citizens on top of its news core values.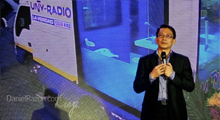 With teleradyo (television radio) on the rise, classic radio's glory seems fading. Along with La Verdad AM radio broadcast launched through UNTV, Kuya Daniel Razon introduced a first-of-its-kind mobile radio booth to keep the intrinsic worth of radio and bring public service closer to people.
Education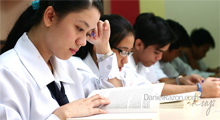 Kuya Daniel Razon's free education through La Verdad Christian School and La Verdad Christian College provides formal learning to roughly 1,000 deserving yet poor students in the Philippines, Liberia, and Ghana. The first of its kind in the Philippines, La Verdad's scholarship grants scholars with zero-cost tuition and miscellaneous fees, free meals, uniforms, books, and lodging.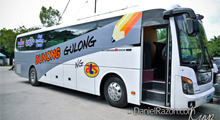 An alternative learning project for the out-of-school Filipinos, Dunong-Gulong is the Philippines' first mobile school to roam around the remotest and education-deprived regions of the country.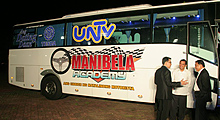 The third of Kuya Daniel Razon's on-wheels project, Manibela Academy is a learning school for drivers. Like his motoring show Manibela which means "wheel," the mobile driving academy teaches motorists to become more responsible while on the road.
Community Service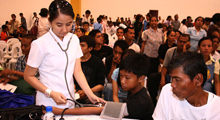 With at least 13 branches Philippine-wide, The Clinic offers free medical assistance to anyone who needs it including free laboratory,dental services, cataract operation and free immunization for infants.
Botika ni Kuya Daniel (Kuya Daniel's Pharmacy)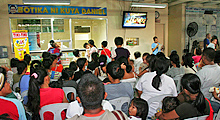 It is indeed but sound to give free medicines to those who cannot afford medical checkup.  This is why after having a costless checkup, the poor can go straight to Kuya Daniel's pharmacy, and off to wellness.
Job Fair ni Kuya Daniel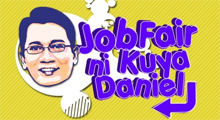 Job-seeking just got a whole lot easier with this project as it brings jobs closer to home—the home of public service, that is. From Mondays to Fridays, job seekers save precious time and money by simply going to the UNTV building where work opportunities knock as early as 4:45 A.M.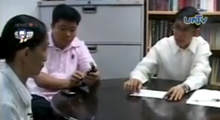 Composed of lawyers and paralegal staff, the Law Center ni Kuya team is most willing and able to be consulted and to give sound legal advice to the poor—for free. Working from as early as 4:45 A.M. every weekday, the Law Center helps the indigents get the justice they seek less the usual worry over fees.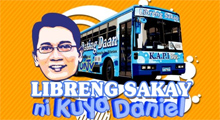 Thanks to the Libreng Sakay ni Kuya Daniel one need not worry about paying fare for the project's name says it all: free ride!  At least two buses travel from Baclaran to Monumento and vice versa to provide free rides for any commuter. Commuters on the free bus ride are also served with food and, most importantly, given free Bibles.
Libreng Sakay sa MRT (Free MRT Ride for Senior Citizens)
For the aged, there is the Libreng Sakay sa MRT. Senior citizens who are patrons of the Metro Rail Transit are eligible for a single-journey (one-way) ticket for free.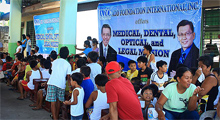 Kuya Daniel understands that not all can come to his clinic at UNTV for free medical care. That's why he brings it to them.
From the poor in remote provinces to professionals in the media industry, Kuya Daniel's medical mission continues with his Mobile Clinic. In cooperation with UNTV and Ang Dating Daan, Mr. Public Service brings professional medical care to indigents and industrious individuals to their localities on a regular basis.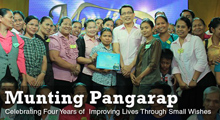 If you are like the vast number of Filipinos who dream of having a small business to propel their lives towards success, Munting Pangarap might just be the answer. Kuya Daniel Razon is the leading light behind this endeavor of giving impoverished individuals a new start at life.
Aired on UNTV 37, Munting Pangarap provides these poor people with humble help that may start their new business, locate a lost son or daughter, and more. Munting Pangarap helps people to live a decent life and inspire others to do the same.